| | |
| --- | --- |
| | • 09-20-2018 - GAS CITY IS OPEN: We have now opened a 2nd location for your convenience. Our Gas City office is located at 200 E. Main Street, across from Town Hall. The office hours are Mon-Thurs 8am to 4pm and open Fri, 7am to 5pm. An ATM is available for your use as well. |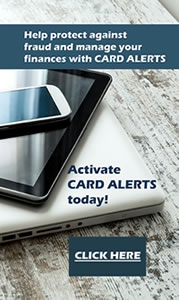 NOTICE: PLEASE BE ADVISED THAT THERE ARE SEVERAL DATA BREACHES RECENTLY USING DEBIT CARDS! WE ARE NOT AWARE OF THE SOURCE, HOWEVER, WE ARE INVESTIGATING. THIS IS NOT AN INTERNAL BREACH! PLEASE BE CAUTIOUS WHEN USING YOUR DEBIT CARDS, WE ASK THAT YOU DO NOT USE A PAY AT THE PUMP FOR FUEL AND WE ASK THAT YOU PLEASE USE YOUR DEBIT CARD AS A DEBIT (NOT A CREDIT) AND INPUT YOUR PIN EACH TIME.
FOR LOST OR STOLEN DEBIT CARDS, AFTER HOURS, PLEASE CALL (800) 523-4175.