| | |
| --- | --- |
| | • 09-20-2018 - GAS CITY IS OPEN: Our Gas City office is located at 200 E. Main Street, across from Town Hall. The office hours are Mon-Thurs 8am to 4pm and open Fri, 7am to 5pm. An ATM is available for your use as well. |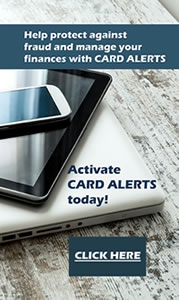 Other Services:

Miscellaneous Member Services:

Cashier's checks
Money orders
MastercardTravel Cards AND Mastercard Gift Cards
Bank wires
Free $1000.00 Accidental Death and Dismemberment Insurance
Notary service
Night depository service
Coin Counter at No-Cost to Members and a 10% Fee for Non-Members

Direct Deposit (EFT): Contact your employer to set up Direct Deposit (EFT) of your paycheck or pension. Contact your local Social Security Administration office to set up Direct Deposit (EFT) of your Social Security payments.

Free Annual Credit Report:

A recent amendment to the federal Fair Credit Reporting Act (FCRA) requires each of the nationwide consumer reporting companies to provide you with a free copy of your credit report, at your request, once every 12 months from www.annualcreditreport.com. This site is sponsored by the three major credit reporting companies, Equifax, TransUnion, and Experian. The FCRA promotes the accuracy and privacy of information in the files of the nation's consumer reporting companies. The Federal Trade Commission (FTC), the nation's consumer protection agency, enforces the FCRA with respect to consumer reporting companies.

Learn More about this service at the Federal Trade Commission website for the consumer.